An AED Defibrillator is located in Ballycastle Community Hall
In the event of a person collapsing and becoming unresponsive:
1. Call 999 (landline) or 112 (mobile)
2. Call local Defibrillator Responder on
A) 086-257-6771 or B) 086-257-6772
3. Start CPR immediately while awaiting responder and emergency service
Ballycastle Rideout
100 Harley Davidson bikers on their tour of Mayo as part of the Gathering Ireland 2013, passing through Ballycastle on Saturday 4th May.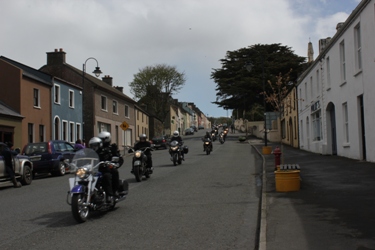 click on image for larger view
Holy Communion
Congratulations to the following children who received their First Holy Communion in St. Bridget's Church, Ballycastle on Sunday 12th May:
Tony Carden, Erin Flannery, Ashling McDonnell, Katelin O'Donnell, Michael Winters, Eoin McDonnell, Kate Heffernan, Fionnán MacConghamha.
Wedding
Congratulations and best wishes for the future to Florence McBrien, Carrowcubic and Clayten Lavelle, Co. Sligo who were married in St. Bridget's Church, Ballycastle on Friday 10th May.
West Coast Vintage Society
West Coast Vintage Society are having their 6th Annual Field Day on Sunday, May 26th in Ballycastle. This year we are having an Auto Jumble and car boot sale theme. The club will welcome car boot sellers on the day for a small fee. Other attractions include Threshing, static vintage display and children's entertainment etc.
For enquiries call Alastair on 087-2111211 or Seán on 086-8373112 or any club member. Proceeds go to various charities.
Development Course
Next meeting is on Wednesday 22nd May at 7.00p.m. in the Resource Centre. We are in the process of developing a plan for the area so anyone with projects or ideas should attend this meeting.
We are also putting together submissions for inclusion in the county development plan, the closing date for this is 24th May. Anyone with anything they wish to include in this, please attend.
Lotto
No's drawn on 11th May were: 1. 5. 21. 23. No Jackpot winner. Jackpot now stands at €5,500. Next draw in Healys.
Five Envelopes drawn:
Ann McDonnell, Seaview Place
Chris Murphy, Annaghbeg
P.J. & Caitriona Gillespie, Ballina
Mary Delaney, Ballycastle
Annette & Padraig Garry, Seaview Place
G.A.A.
Fixture:
North Mayo Exclusive Junior B Championship : Moygownagh v Ballycastle on Saturday 18 th May a 6.30p.m.
Membership:
Membership may still be given to committee members. Family membership €40; Adult €25; Youth €10; OAP €10; Student €10. Membership cards will be available from club officers.

Community Alert
Community Alert meeting on Friday 17th May at 9.00p.m.
'Kiddies Korner'
Ballycastle 'Kiddies Korner' Playschool will hold its AGM on Friday 17th May at 8.00p.m. in the Playschool. All welcome.
'Kiddies Korner' Playschool will hold a parents information evening on Friday 31st May at 8.00p.m. for parents of children attending the service in September 2013.
Dance
T. J.'s Social Dance in the Community hall on Saturday 18th May at 10.30p.m. Music by Tom Campbell.
Day Trip to Lough Derg
A coach will travel to Lough Derg for a day trip on Sunday 26th May.
For Bookings and Details, Contact Mary McGrath, McGrath Coaches at 097 87842.
Water Safety
Water Safety – one week only – commencing on July 29th at Lacken Pier. All enquiries to Anne at 096 – 43180.
Craft Shop
Craft Shop is located in the Resource Centre, Upper Main Street stocking goods by local craftworkers e.g. knitwear, crochet, handmade cards, candles, fridge magnets, wooden bowls, cushions etc.
Also, Paintings by local artists, Mayo Crystal and a range of other items.
Other Facilities available :
Tourist Information, Fax, Laminating, Photocopying, Typing.
Opening Hours: Monday – Friday 10.00a.m. – 5.00p.m. (closed for lunch 1 – 2.00p.m.)
Art
Paintings by Ballycastle Art Group are on display in the Resource Centre Art Gallery , Ballycastle. Open Monday – Friday 10.00a.m. – 5.00p.m.
E-mail: ballycastleart@gmail.com
Classes
Art Class on Mondays at 7.00p.m. in Suífinn Way Centre.
Set Dancing class on Wednesdays at 9pm. in St. John's Hall.
Music classes in St John's Hall on Saturdays 11.00a.m. – 12.30p.m..
Irish Dancing classes continue every Monday and Thursday, in St John's Hall, Ballycastle from 5pm till 6.30pm. New members are always welcome. Children can start from age 3 up.
Library
Library is now located in the VEC Building (former Secondary School) and is open on Wednesdays from 9.30a.m. – 4.00p.m.
Outdoor Gym
The new outdoor fitness gym in Suífinn Way Estate is open to anybody over the age of 50. The equipment is clearly marked with instructions on how to use each individual piece.
For further information contact Suífinn Way Centre:
Phone No: 096-43848
Email: suifinnway2010@gmail.com
Website: www.ballycastlevoluntaryhousing.com
Exercise Club
Exercise Club meet each Tuesday at 11.00a.m. in Daycare Centre, Suífinn Way .
New members welcome.
.
Home Care Service
Home care help available to the elderly and convalescent in the Ballycastle and surrounding areas. Interested persons can contact Josephine on 086-0579023, for details and arrangement.
Community Hall
Monday : Bingo at 9.00p.m.
Thursday : Basketball for girls & boys 8 – 10yrs from 5.30p.m. – 6.30p.m. and for girls & boys 10yrs and over from 6.30p.m. – 7.30p.m. €2 per child.
Adult Basketball at 8.00p.m. Contact Barry at 096-43863.
Anyone wishing to book the Hall for meetings or activities, contact Breda McNulty at 089-4607901
Church Notices
Mass Times:
Weekdays at 10.00a.m.
Saturday Vigil: 8.15p.m.
Sunday: 11.30a.m.
Masses this week:
Monday: No Mass
Tuesday 8.00p.m.: James & Annie Doherty
Wednesday 10.00a.m.: John, Winifred & Breege Keane
Thursday 10.00a.m.: John, Bridget and Paddy Gardiner and Michael Farrell
Friday 10.00a.m.: People of the Parish
Saturday 10.00a.m.: Patrick & Maura McGuire & Deceased Family members
Saturday Vigil 8.15p.m.: Peter & Mary Carey & Deceased Family members
Sunday 11.30a.m.: Jimmy Healy
Eucharist Ministers:
Saturday Vigil: Cauleen Barrett
Sunday 11.30a.m.: Mary Boyle
Readers:
Saturday Vigil: John Maughan
Sunday 11.30a.m.: Mary Hefferon
Servers:
Saturday Vigil: Katelyn Healy, Lauren Healy
Sunday : Ciara Sweeney, Caoimhe Grier
Adoration:
7.00p.m.: Philomena Hunt, Anne Healy
7.30p.m.: Marcella O'Grady, Breege Doherty
.