An AED Defibrillator is located in Ballycastle Community Hall
In the event of a person collapsing and becoming unresponsive:
1. Call 999 (landline) or 112 (mobile)
2. Call local Defibrillator Responder on
A) 086-257-6771 or B) 086-257-6772
3. Start CPR immediately while awaiting responder and emergency
service.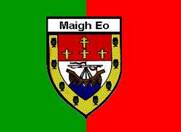 Best of luck to the Mayo Ladies Senior Football Team in the All Ireland Final against Dublin on Sunday next 24th .
Culture Night Friday 22nd September 2017
The Ballinglen Arts Foundation welcomes you to join them on Friday 22nd September between 5pm and 8pm. On the night there will be a portraiture workshop with Professor Randall Exon, Exhibition & Collage Workshop with Nana Gregory, Children's Corner with Emily Brown - Art and the Natural Wold and A 'Readalong' sing song with Brenda Exon at 6pm.
A wonderful evening in store, so come on in and enjoy the above events. Adults and Children are welcome. Refreshments served.
Death
Sympathy is extended to the family, brothers, sister, relatives and friends of Seamus Hoban, Dublin and late of Main Street, Ballycastle who died last Saturday.
May he rest in peace.
Lotto
No's drawn on 18th September were: 5. 13. 22. 23. No Jackpot winner.
Jackpot now €3,100. Next draw in Katie Macs.
Five Envelopes drawn:
Bridie Tomas, Ballyglass
Michael Tomas Ballyglass
Rose Lavelle, Ballycastle
Carmel Duggan, Killala Bus
Mary Murray, Killala Bus
GAA
Fixture:
Mayo Junior A Championship Replay:
Ballycastle v Kilmeena on Saturday 23rd September at 6.00p.m. in McHale Park, Castlebar.
50/50:
Congratulations to Patrick Clifford winner of last week's 50/50 (€184).
Yoga Course
5 week Yoga Course starts on Thursday 28th September '17 at 7.30p.m. in Ballycastle Hall.
The Course is facilitated by Aideen Ryan and Bernie Dunford. Fee €50 for 5 weeks payable in advance. Aideen Ryan can be contacted on 086 3815973.
Exhibition Opening
Rebecca Crowell "Still/Moving" in The Ballinglen Gallery, Main Street, Ballycastle
30th September - 23rd October 2017.
Opening Saturday 30th September at 8pm.
Everyone Welcome. Refreshments Served.
Tel: 096 43184. E-mail: baf@iol.ie
Golf Society
Outing to Castlebar Golf Club on 30th September. Gerry Henry's Captains Prize.
Tee booked for 10am so please all be there for 9am. Please support. Visitors very welcome.
Contact Gerry Henry for more information on 0879391689.
Harvest Festival Service
Our Harvest Festival Service is on 1st October at 8.00p.m. in St. John's Church . All welcome.
Thanks to everybody who supported the Cake Sale in St. John's Hall.
Athletic Club
Ballycastle A.C. are hosting the Céide Coast half marathon and 10k on Saturday October 14th.
Info at ceidecoasthalfmarathon.com
Ballycastle Athletic Club training on Fridays 6.30p.m. – 7.45p.m. at Ballycastle Football Pitch.
All Welcome.
Barber John's
Barber John's, now open at the top of Main Street on Thursday, Friday and Saturday each week from 10.00a.m. – 6.00p.m. Gents Haircut: €10;
Pensioners & Children: €8; Beard Trims €5. Phone 085 7571594.
Ballycastle Bike Hire
Tour some of the scenic areas in North Mayo with bicycle hire from Ballycastle bike hire. Bikes provided are high quality with a wide selection to match all ages and abilities (Mountain Bikes, Road Bikes, Hybrid, Children's Bikes) and can be rented from short to long term use.
Service includes free drop-off and pick-up locations in the Céide Coast region including the monasteries of the Moy green-way Killala. Hi-vis vests and helmets supplied.
Opening hours for Céide Coast Lodge on Main Street, Ballycastle are
Monday – Sunday 10.00a.m. – 5.00p.m.
Bike hire available out of hours - just ring 086 3225128.
Call Máirtín on 086 3225128 or email ballycastlebikehire@gmail.com .
www.ballycastlebikehire.com
Over 55 Exercise Club
Wednesdays at 3.00p.m. in Suífinn Way Centre. New members always welcome.
Garda in attendance
Garda will attend at Ballycastle Community Hall from 2 – 3pm on the 1st Wednesday of every month.
Craft Shop
Craft Shop is located in the Resource Centre, Upper Main Street stocking goods by local craftworkers e.g. knitwear, crochet, handmade cards, wooden bowls, cushions, cot quilts, etc.
Ballycastle souvenir items e.g. candles, fridge magnets, keyrings, bookmarks, biros, teabag holders,
Mayo Crystal and a range of other items.
Other Facilities available :
Tourist Information, Photocopying, Laminating, Typing.
Opening Hours:
Monday – Friday 10.00a.m. – 5.00p.m. (closed for lunch 1 – 2.00p.m.)
Community Hall
Opening times for the Gymnasium in Ballycastle Community Hall are:
Monday – Friday 9.00a.m. – 1.00p.m. and 5.00p.m. – 9.00p.m.
Saturday 10.00a.m. – 1.30p.m.
Prices: €5 per visit, €20 per month, €50 for 3 months or €120 per year.
Monday : Bingo at 8.30p.m.
Tuesday: Indoor Soccer 5.30p.m. – 6.30p.m. for children aged 8 – 10years
Basketball for ages 10 – 14 from 6.30 – 7.30p.m.
Ladies basketball at 8.00p.m.
For all Hall bookings, contact Breda at 089-4607901
Church Notices
Masses this week:
Monday 10.00a.m.: People of the Parish
Tuesday 7.00p.m.: Deceased Members of the Langan, Whelan & Munnelly Families
Wednesday 11.00a.m.: John Langan, Killeena (Anniversary)
Thursday 10.00a.m.: Patrick Doherty, Carrowcur
Friday 8.00p.m.: Antonia Langan (Anniversary)
Saturday 8.15p.m.: Deceased Tomas Family, The Bridge
Sunday 11.30a.m.: Deceased Madden & Keane Families
Eucharist Ministers:
Saturday Vigil: Rose Nealon
Sunday 11.30a.m.: Seán Callaghan
Readers:
Saturday Vigil: George O'Grady
Sunday 11.30a.m.: Maura Fox
Servers:
Saturday Vigil: R. O'Donnell, N. Doherty
Sunday 11.30a.m.: M. Tighe, K. Carden
.