An AED Defibrillator is located in Ballycastle Community Hall
In the event of a person collapsing and becoming unresponsive:
1. Call 999 (landline) or 112 (mobile)
2. Call local Defibrillator Responder on
A) 086-257-6771 or B) 086-257-6772
3. Start CPR immediately while awaiting responder and emergency service.
Annual Coastal Challenge
The 4th Ballycastle Coastal Challenge (10k and 6k) will take place on Saturday 25th June at 2.00p.m.
Ballycastle A.C.
Congratulations to our club athlete - Amanda Walsh who won a bronze medal in the Shot Putt in the Connacht Track & Field Championship.
She will now go on to represent Ballycastle A.C. in the All Ireland Track & Field Finals in Tullamore on July 10th.
A big well done to all our athletes who competed in the Connacht track & field championship over the past two weekends.
Athletic training on Friday evenings at 7pm at the football pitch.
Junior & Senior infants meet at the Community Hall.
G.A.A.
Fixture:
Mayo Junior A Championship - Group 3:
Ballycastle v Kilmeena on Sunday 26th June at 2.00p.m. in Tom Langan Park .
Results:
Mayo Senior League 2016 - Group 1D:
Kilfian: 2 – 10; Ballycastle: 2 – 9.
Colm Kenny Tournament: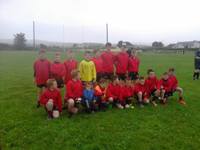 Click for larger image
Ballycastle National School who just fell short of winning the first Colm Kenny A title, going down by 2 points to Cooneal but they did us all proud.
Final score: Ballycastle NS : 2 - 4; Cooneal NS : 3 – 3.
Back row left to right : Liam Fox, Thomas McNulty, Fionnán MacConghamha,
Tony Carden, Eoin Mc Donnell, Jamie Timlin, Finn McDermott Cox,
Micheal Winters.
Front row left to right : Tristan Murphy, Josh Murphy, Tighe MacConghamha,
Killian Scott, Sam Kelly, Keith Carden, Nathan Doherty, Matthew Moyles,
Oisín Flannery, Lorcan O'Donnell.
50/50 draw
Congratulations to Trisha Forde and William Wills who won €206 in last week's 50/50 draw.
Remember you can now purchase your 50/50 tickets online go to www.ballycastlegaa.ie for more details or contact any of the executive.
Cycling Club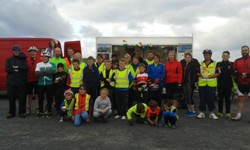 Click for larger image
The Ballycastle Cycling Club would like to thank the 25 cyclists from all age groups who took part in the 12km cycle event as part of bike week on Thursday 16th June.
A special thank you to Patsy and Wanda O Neill of Tea by the Sea, Frankie McNamee who supplied energy bars for all participates and to Mickey Moyles and Louise Kelly who did trail and lead car.
Cycling for Beginners
After a very successful Bike week event, Ballycastle Cycling Club have decided to introduce a cycle every second Thursday starting on Thursday 30 th June, meeting at the GAA Pitch at 7pm.
Contact Máirtín Flannery for more details.

Death
Sympathy is extended to the family, relatives and friends of Fintan Tuohy, Bonniconlon who died recently (Husband of Kathy, (Teacher in Lacken Cross School) and brother of Donnie (Manager of Ballycastle GAA Team).
May he rest in peace.
Lotto Jackpot now €15,700
No's drawn on 20th June were: 2. 12. 13. 29. No Jackpot winner.
Next draw in Healys.
Five Envelopes drawn:
Cyril & Ellen, Ballycastle
Rebecca Clarke, Ballycastle
Patsy O'Neill & Seán Cavish, Ballycastle
Michael Doherty (Snr), Ballycastle
Kathleen McDonnell, Main Street
Tickets can be purchased at: John Burkes, Healy's Bar, Post Office, Katie Macs and Craft Shop.
Bingo
Bingo in the Community Hall on Monday 27th June at 8.30p.m. Guaranteed Jackpot of €300.
Giro de Baile
Register now for Giro de Baile which takes place on Sunday 31st July in Ballycastle by emailing girodebaile@gmail.com or contact 0863225128.
Garda in attendance
Garda will attend at Ballycastle Community Hall from 2 – 3pm on the 1st Wednesday of every month.
Gymnasium
Opening times for the Gymnasium in Ballycastle Community Hall are:
Monday – Friday 9.00a.m. – 1.00p.m. and 5.00p.m. – 9.00p.m.
Saturday 10.00a.m. – 1.30p.m.
Prices: €5 per visit, €20 per month, €50 for 3 months or €120 per year.
Irish Music classes
Children's Irish music classes in the old barracks, on Fridays from 5.30 to 7pm (beginners from 5pm). Contact 086-3016691.

Adult Irish music classes in Community Centre, Killala on Thursdays 7.30pm to 8.30pm.
Contact 086-3016691.

Irish Dancing classes
Irish dancing classes in St John's Hall. Beginners class 6.30-7.30pm, Advanced class 7.30-8.30pm. Newcomers welcome. Contact 089494435/0860687342
Craft Shop
Craft Shop is located in the Resource Centre, Upper Main Street stocking goods by local craftworkers e.g. knitwear, crochet, handmade cards, wooden bowls, cushions, cot quilts, etc.
Ballycastle souvenir items e.g. candles, fridge magnets, keyrings, bookmarks, biros, teabag holders,
St. Brigid's Crosses, Mayo Crystal and a range of other items.
Other Facilities available :
Tourist Information, Photocopying, Laminating, Typing.
Opening Hours:
Monday – Friday 10.00a.m. – 5.00p.m. (closed for lunch 1 – 2.00p.m.)
Community Hall
Monday : Bingo at 8.30p.m.
Tuesday: Indoor Soccer 5.30p.m. – 6.30p.m. for children aged 8 – 10years
Basketball for ages 10 – 14 from 6.30 – 7.30p.m.
Ladies basketball at 8.00p.m.
For all Hall bookings, contact Breda at 089-4607901
Church Notices
Mass Times:
Weekdays at 10.00a.m. (unless otherwise stated)
Saturday Vigil: 8.15p.m.
Sunday: 11.30a.m.
Masses this week:
Monday: People of the Parish
Tuesday: Catherine (Anniversary) Dan & Joe Tighe
Wednesday: Private Intention
Thursday: Pat, Mary & Michael O'Grady & Deceased Family
Friday: End of School Year Mass (in the National School)
Saturday 8.15p.m.: Kathleen (Anniversary) & Tom Grier
Sunday 11.30a.m.: Paul Doherty (3rd Anniversary)
Eucharist Ministers:
Saturday: Eileen Grier
Sunday: Mary Boyle
Readers:
Saturday: Caroline Nealon
Sunday: Elizabeth O'Donnell
Servers:
Saturday: Kim Stadler, Finn McDermott Cox, Emily Loftus, Nathan Doherty
Sunday: Caoimhe Tomas, Eoin McDonnell, Lorna Tomas, Óisin Flannery
.
.