An AED Defibrillator is located in Ballycastle Community Hall
In the event of a person collapsing and becoming unresponsive:
1. Call 999 (landline) or 112 (mobile)
2. Call local Defibrillator Responder on
A) 086-257-6771 or B) 086-257-6772
3. Start CPR immediately while awaiting responder and emergency service.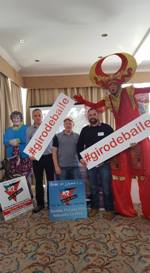 Click for larger image
The Giro de Baile Committee promoting the North Mayo sportive at the Mayo North Expo held at the Ballina Manor Hotel. Register for the Giro de Baile at www.girodebaile.com find all you need to know on Facebook and Twitter.
Golf Society
Results from Tubbercurry outing:
1st: David Alexander 37pts
2nd: David Finnerty 31pts
Longest drive: Dominic Flanagan
Next outing is the weekend away in Galway on Friday and Saturday 17/18th June.
Contact Gerry Henry for more information on 087-9391689
Annual Coastal Challenge
The 4th Ballycastle Coastal Challenge will take place on Saturday 25th June at 2.00p.m.
Lotto Jackpot now €15,300
No's drawn on 23rd May were: 7. 9. 26. 27. No Jackpot winner.
Next draw in Healys.
Five Envelopes drawn:
Edward Scott, Healys
Samantha, Doonfeeney
Michael Healy, Moyney
Barry Cox, Ballyglass
Martin Walsh, Annaghmore
Tickets can be purchased at: John Burkes, Healy's Bar, Post Office, Katie Macs and Craft Shop.
G.A.A.
Result:
Senior League Rd 6 : Ballycastle: 1 – 6; Kilmeena: 0 – 14.
50/50 draw
Congratulations to Gerard McDonnell, Behy who won €261 in last week's 50/50 draw.
Remember you can now purchase your 50/50 tickets online go to www.ballycastlegaa.ie for more details or contact any of the executive.
Bingo
Bingo in the Community Hall on Monday 30th May at 8.30p.m. Guaranteed Jackpot of €300.
Garda in attendance
Garda will attend at Ballycastle Community Hall from 2 – 3pm on the 1st Wednesday of every month.
Athletic Club
Athletic training on Friday evenings at 7pm at the football pitch.
Junior & Senior infants meet at the Community Hall.
Cycling Club
Club Spins for Members at 8am on Sundays from the Shambles.
If you know anyone interested in getting into cycling for beginners, Couch to the Giro continues at 9am on Saturdays from the Shambles, Ballycastle. All you need is a Bike (any), a Helmet and Motivation.
Irish Music classes
Children's Irish music classes in the old barracks, on Fridays from 5.30 to 7pm (beginners from 5pm). Contact 086-3016691..

Adult Irish music classes in Community Centre, Killala on Thursdays 7.30pm to 8.30pm.
Contact 086-3016691.

Irish Dancing classes
Irish dancing classes in St John's Hall. Beginners class 6.30-7.30pm, Advanced class 7.30-8.30pm. Newcomers welcome. Contact 089494435/0860687342
Gymnasium
Opening times for the Gymnasium in Ballycastle Community Hall are:
Monday – Friday 9.00a.m. – 1.00p.m. and 5.00p.m. – 9.00p.m.
Saturday 10.00a.m. – 1.30p.m.
Prices: €5 per visit, €20 per month, €50 for 3 months or €120 per year.
Craft Shop
Craft Shop is located in the Resource Centre, Upper Main Street stocking goods by local craftworkers e.g. knitwear, crochet, handmade cards, wooden bowls, cushions, cot quilts, etc.
Ballycastle souvenir items e.g. candles, fridge magnets, keyrings, bookmarks, biros, teabag holders, St. Brigid's Crosses, Mayo Crystal and a range of other items.
Other Facilities available :
Tourist Information, Photocopying, Laminating, Typing.
Opening Hours:
Monday – Friday 10.00a.m. – 5.00p.m. (closed for lunch 1 – 2.00p.m.)
Community Hall
Monday : Bingo at 8.30p.m.
Tuesday: Indoor Soccer 5.30p.m. – 6.30p.m. for children aged 8 – 10years
Basketball for ages 10 – 14 from 6.30 – 7.30p.m.
Ladies basketball at 8.00p.m.
For all Hall bookings, contact Breda at 089-4607901
Church Notices
Mass Times:
Weekdays at 10.00a.m. (unless otherwise stated)
Saturday Vigil: 8.15p.m.
Sunday: 11.30a.m.
Masses this week:
Monday: Peter & Mary Kelly
Tuesday: People of the Parish
Wednesday: Jack & Mary Gaffney & Deceased Family
Thursday: Peter Doherty & Bridget Sweeney
Friday 7.00p.m.: Bridget, Francis & Katie Healy & Deceased Family Members
Saturday 8.15p.m.: James & Annie Doherty, Ballymachugh
Sunday 11.30a.m.: People of the Parish
Eucharist Ministers:
Saturday: Rose Nealon
Sunday: Seamus O'Connor
Readers:
Saturday: George O'Grady
Sunday: John Busby
Servers:
Saturday: Finn McDermott, Rebecca Maguire
Sunday: Kate Heffernan, Róisín O'Donnell
.
.