Ballycastle & District Social Housing Association
The official 'sod turning' ceremony of the Association took place on Saturday 24th February at 2.00p.m. The important event was performed by Dr. Michael Loftus, Crossmolina and Fr. Sean Killeen performed the Blessing of the site.
The event was attended by the committee members, Vincent Coleman Architect, some of the construction workers and local people.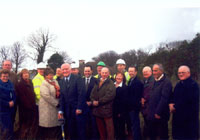 Group at the official 'sod turning'
At the recent A.G.M. of the Social Housing Committee/Directors the following were elected:
Chairperson: Frank McNamee
Vice Chairperson : Dr. Declan Clinton
Joint Secretaries : Nuala Delaney/Whelan and Carmel McGinty
Joint Treasurers : Kevin Loftus and Leo Golden
Joint P.R.O.'s: Cauleen Barrett and Florrie McBrien
Clerk of Works : Aidan Tighe
All applications will be processed by Mayo County Council. Application forms can be obtained from
Carmel in the Resource Centre (9.00a.m. – 1.00p.m.).
G.A.A.
Semi Final of the North Mayo Winter League : Ballycastle play Moygownagh in Kilfian on Sunday next
4th March at 2.00p.m.
First Round of the County Senior League will take on St. Patrick's weekend. More details later.
Club Membership is due before the end of March.
Lotto
No's drawn on Saturday 24th February '07 were: 16. 26. 29. 30. No Jackpot winner so Jackpot now stands at 4,200euro. Next draw in Polkes.
Five envelopes drawn:
John Deane, Ballycastle
Ann McDonnell, Seaview
George O'Grady, Ballycastle
Johnny Jordan, Killerduff
Tommy O'Donnell, Ballycastle
Deaths
The death occurred suddenly in Dublin on Wednesday last of Michael McHale, Dominick Street, Ballycastle. Sympathy is extended to his mother Tess, sisters Una and Anne, brothers James, Gerry and David, relatives and friends.
Sympathy is extended to the family, relatives and friends of Mrs Sheila Healy (late of Glenamoy and Castletown) who died in England. Her remains will be brought to Ballycastle for burial after 12.00noon Requiem Mass on Friday.
Confirmation
Ballycastle: Sunday 20th May at 4.00p.m.
Belderrig: Sunday 13th May at 4.00p.m.
First Communion
First Holy Communion in Ballycastle on Sunday 27th May at 11.30a.m. Mass.
Church Notices
Mass Times:

Weekdays at 10.00a.m.

Saturday Vigil: 8.15p.m .

Sunday: 11.30a.m.

Masses this week:

Monday: Paddy Sweeney

Tuesday: Michael Joe McHale, Johnny and Michael

Wednesday 8.00p.m.: Tony Campbell

Thursday: Michael & Tom Noone & Deceased Family Members

Friday 12.00noon: Funeral Mass for Sheila Healy

Friday 8.00p.m.: Anthony Geraghty ( Month's Mind ) (St. Pio Novena at 7.45p.m.)

Saturday 10.00a.m.: Jim McDonnell

Saturday 8.15p.m.: Kate & John Langan ( Doonfeeney )

Sunday 11.30a.m.: Edward Naughton

Eucharist Ministers:

Saturday Vigil: Breege Gardiner

Sunday: Tony D'Arcy

Readers:

Saturday Vigil: Eileen Grier

Sunday: Seamus O'Connor

Adoration:

7.00p.m.: Anne & Paddy McDonnell

7.30p.m.: Phil Healy, Anne Callaghan

8.00p.m.: Eileen Deane, Sheila Polke

8.30p.m.: Anne Scott, Eileen Tighe

Community Care:

Cook: Mary Bilbow

Driver: Seamus Bilbow