An AED Defibrillator is located in Ballycastle Community Hall
In the event of a person collapsing and becoming unresponsive:
1. Call 999 (landline) or 112 (mobile)
2. Call local Defibrillator Responder on
A) 086-257-6771 or B) 086-257-6772
3. Start CPR immediately while awaiting responder and emergency
service.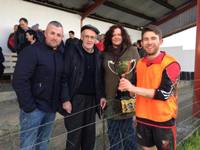 Click for larger image
Left to right: Oliver Sweeney, Micheal Sweeney, Nikki Sweeney and Jason O'Neill
G.A.A.
Result from the Sweeney Cup played on St. Stephen's Day: East 3-9; West 1-8. Nikki Sweeney presented the cup to East captain Jason O'Neill. Thanks to Máirtin Flannery for refereeing, Siobhan Heffernan for the photos, Healy's Bar for the refreshments and everyone who came out on the day and joined in the fun.
Fancy winning €300 for picking a winner in each round of the National league?
'Last man standing' starts on 25 th January. For more information contact Fergal O'Connor at fergal@live.ie . This competition is open to everyone.
Congratulations to Maureen Walsh, winner of last week's 50/50 Draw (€244)
Ballycastle GAA would like to wish you all a happy New Year.
Lotto
No's drawn on 29th December were: 1. 6. 14. 23. No Jackpot winner.
Jackpot now €4,500.
Five Envelopes drawn:
Kathleen Donnelly, Dominick Street
Annie McCann, Belderrig
Des & Patricia Early, Ballycastle
Phil Tomas, Ballycastle
Eddie & Brendan, c/o Healys
Cycling Club
Ballycastle Cycling Club would like to thank everyone who helped with the New Year's cycle.
The Club raised €880 for the Headway charity.
The club's annual weekend away will be in July, when we hope to complete the 180km of the Ring of Kerry. For more details contact Máirtin Flannery.
Death
Sympathy is extended to the relatives and friends of Una Connolly, Suífinn Way who died recently.
May she rest in peace.
Seaview Residents Association
Seaview Residents Association has been tasked with the upkeep of the new playground in Seaview. As this is an extra cost on the little budget we have, we will be selling lines for a hampers at €2 each. All support would be appreciated.
Bingo
Bingo in Ballycastle Community Hall on Mondays at 8.30p.m. Guaranteed Jackpot of € 300.
Exhibition continues
"Our World Our Lives" Children's Exhibition Continues until January 25th 2018.
Exhibition of prints made by 450 school children who visited Ballinglen in 2017.
If you have not seen this, do come along. All welcome.
The Ballinglen Arts Foundation, Main Street Ballycastle, Co. Mayo.
Tel: 096 43184 or Nuala Clarke: 086 8222126
Gymnasium
Special offer for the month of January - €100 for 1 year's membership.
Prices: €5 per visit, €20 per month, €50 for 3 months.
Gift Vouchers available in Mary's Tea Rooms and the Post Office.
Community Hall
Opening times for the Gymnasium in Ballycastle Community Hall are:
Monday – Friday 9.00a.m. – 1.00p.m. and 5.00p.m. – 9.00p.m.
Saturday 10.00a.m. – 1.30p.m.
Prices: €5 per visit, €20 per month, €50 for 3 months or €120 per year.
Monday : Bingo at 8.30p.m.
Tuesday: Boys and Girls Basketball from 5.30p.m. – 6.30p.m.
Boys and Girls Indoor Soccer from 6.30p.m. – 7.30p.m.
For all Hall bookings, contact Breda at 089-4607901
Church Notices
Masses this week:
Monday 12.00noon: Elaine Madden (Anniversary) & Pat, Molly & Julia Madden
Tuesday 11.00a.m.: Paddy Langan (Anniversary)
Wednesday 11.00a.m.: Michael Joe McHale (Anniversary)
Thursday 11.00a.m.: Mary & Tony McAndrew
Friday Vigil 8.15p.m.: Mary, Kathleen & Teresa Forde
Saturday 11.30a.m.: Holy Day. Pat, Margaret & Paddy O'Malley & Mary McNiff
Saturday 8.15p.m.: Francie Healy (Anniversary)
Sunday 11.30a.m.: Annie Kate Hopkins & Deceased Members of the Hopkins, Carolan & Naughton Families
Eucharist Ministers:
Saturday Vigil: As Arranged
Sunday 11.30a.m.: As Arranged
Readers:
Saturday Vigil: As Arranged
Sunday 11.30a.m.: As Arranged
Servers:
Saturday Vigil: Mia Tighe, John Healy
Sunday 11.30a.m.: Leona Ruane, Michaela Scott
.